***Introducing our NEW Summer League Bowler Perks***

Posted 04/29/2021

Regular bowlers (not substitutes) in any of our Summer Leagues will enjoy:

- $1 games and $1 shoe rental for practice games during Open Bowling.
- Others bowling on the same lane with the League Bowler will enjoy $3 games (Shoe rental at regular price - $3).
- These discounts will apply during regular Open Bowling, except on Fridays and Saturdays after 5 pm.
- These discounts will apply from the beginning of the bowler's Summer League until August 31st, 2021.


Summer Leagues are Coming!!!

Posted 04/20/2021

League Bowling is for everyone who is looking to have fun. We have a variety of formats for all skill levels. We have something for everyone this summer including some NEW league options.

Click here for a listing of our summer offerings.
Please RSVP (kris.tikilanes@gmail.com or 740-654-4513) for any league you plan to join.

Don't have a full team? No problem. We will work to pair you with others to field a team.


Open Bowling Availability Update

Posted 04/12/2021

Many of our full season leagues have finished their seasons. Presently we have at least 10 lanes available for Open Bowling during all of our Open Hours, except on Friday evenings from 5 pm to approximately 9 pm. We still recommend you call us (740-654-4513) to check lane availability and we can put you on our waiting list if needed. See the Thunder Alley information below about bowling on Friday night from approximately 9 pm until we close at 11 pm.


Thunder Alley is Back on Friday Nights!!!

Posted 03/04/2021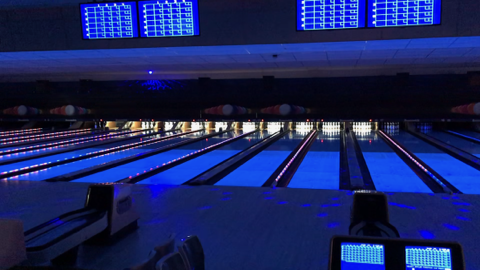 We will be using our Thunder Alley lighting for Open bowling on Friday nights after our league finishes. Open bowling will begin after our league finishes at approximately 9 pm and go until we close at 11 pm. You may call beginning at 5 pm to be put on our waiting list and we recommend that you arrive before 9 pm so we can place you on a lane as yours becomes available. We will call you in the order of our waiting list. If you do not answer or are not here we will move on to the next party on our list so we can get everyone in as quickly as possible. After league play is complete we will turn on the Thunder Alley lights over the lanes. Once everyone is placed on a lane we will turn the lights out over the seating area. The cost to bowl during this time is $12 per person which includes shoe rental.

COVID-19 Information
Welcome back to bowling!!!

We continue to follow the Orders and guidance provided by the CDC, the State and the Fairfield Department of Health. This includes modifying the hours we are open to meet any curfew put in place.

We are ready to provide you with a fun family experience, but we need your help to reduce the risk of COVID-19 transmission. Here are our expectations of our customers:

1) Please call ahead to check our lane availability. We will put you on our waiting list if all of our lanes are full (this is not a reservation). If we are full we will ask you to stay in your car until we call or text you to let you know your lane is ready.
2) You will complete a self-health check before you come in. If you feel sick, please stay home. We will be here another day.
3) You will follow the current requirements put in place by the Ohio Department of Health which include, but are not limited to:
a. You will wear a facial covering while in our facility, except when you are actively eating or drinking or bowling.
b. You will be seated at your table when eating and drinking.
c. You will not congregate in open areas with others.
d. You will properly wash and sanitize your hands regularly and use proper cough and sneeze etiquette.
4) You are not required to wear a facial covering while you are seated eating and drinking or when you leave your table to go directly to your lane to bowl.
5) We will have our house bowling balls stationed in our pool room. We will have you use a glove with our fitting ball to get your finger hole size. Then you will be able to select the weight you need.
6) When you are done you can leave your house bowling balls at the lane for us to sanitize.
We have made some changes to provide you a safer experience with us:
1) We have removed half of our tables and will only use half of our lanes to provide 6 feet of distancing between groups.
2) Staff will complete a health assessment including a temperature check prior to starting for the day. Also, our staff will be required to wear facial coverings (with certain exceptions).
3) Customers will be required to wear facial coverings while in our building except when seated and eating or drinking or while bowling.
4) We are keeping our house bowling balls in a different location and requiring a glove be used to find the right fit.
5) We have a new mobile restaurant POS system. No more waiting in line at the Snack Bar or Bar to place your order - pre-authorize your card or pay as you go. We will provide full service at your table.
6) We will have our menus available digitally - connect to our new WiFi system to be taken directly to the menu.
7) We will disinfect equipment between groups and high touch areas every 2 hours.

Tiki Lanes Bowling Lanes

FEATURED BOWLING SPECIAL
A Great Way to Have Fun with the Family!!

Looking for a way to entertain and feed the whole family? Get 2 hours of bowling and shoe rental for up to 6 people, a 16" Cheese or Pepperoni pizza and a pitcher of pop for $70.