Our Main Entrance is open again!!!
Posted 7/16/2021

Our Main Entrance is ready for use again with a wider, easier to access ramp.
We are Back to Full Capacity!!!
Posted 06/11/2021

We are back to full capacity on our bowling lanes and at our pool tables. Still concerned about Social Distancing? Let us know when you check in and we will do our best to reasonably accommodate your request.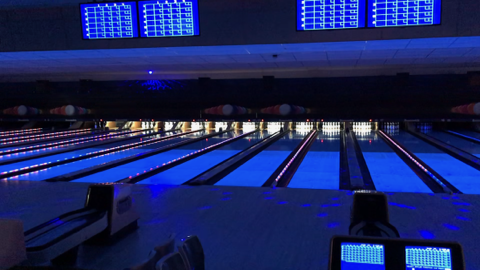 We are still running THUNDER ALLEY throughout the Summer. It is on Friday nights from 9 pm to 11 pm. We have 18 lanes that can be reserved for this event, but may have more lanes available if they are not in use for Open Bowling. You may call us (740-654-4513) beginning at 5 pm on Friday to reserve your lane. The cost for bowling and shoe rental during this event is $12 per person. We are able to start handing out the lanes as early as 8:45 pm with bowling starting at 9:00pm. Wear your fluorescent colors!!!

Tiki Lanes Bowling Lanes

FEATURED BOWLING SPECIAL
A Great Way to Have Fun with the Family!!

Looking for a way to entertain and feed the whole family? Get 2 hours of bowling and shoe rental for up to 6 people, a 16" Cheese or Pepperoni pizza and a pitcher of pop for $70.